Are you ready for our EARiest sale ever? All our clinics nationwide remain open, with both client and staff safety our top priority, but with Halloween on the horizon, we are also celebrating the scariest holiday of the year for the entire month of October. Don't worry though - there are no tricks, just treats!
In this blog, we'll be looking at some of the different treats we have on offer to mark Halloween this year.
Halloween Colouring Competition
This Halloween we have a little treat for your little ones. They can enjoy our spooky Halloween colouring competition and be in with a chance to win a €100 shopping voucher!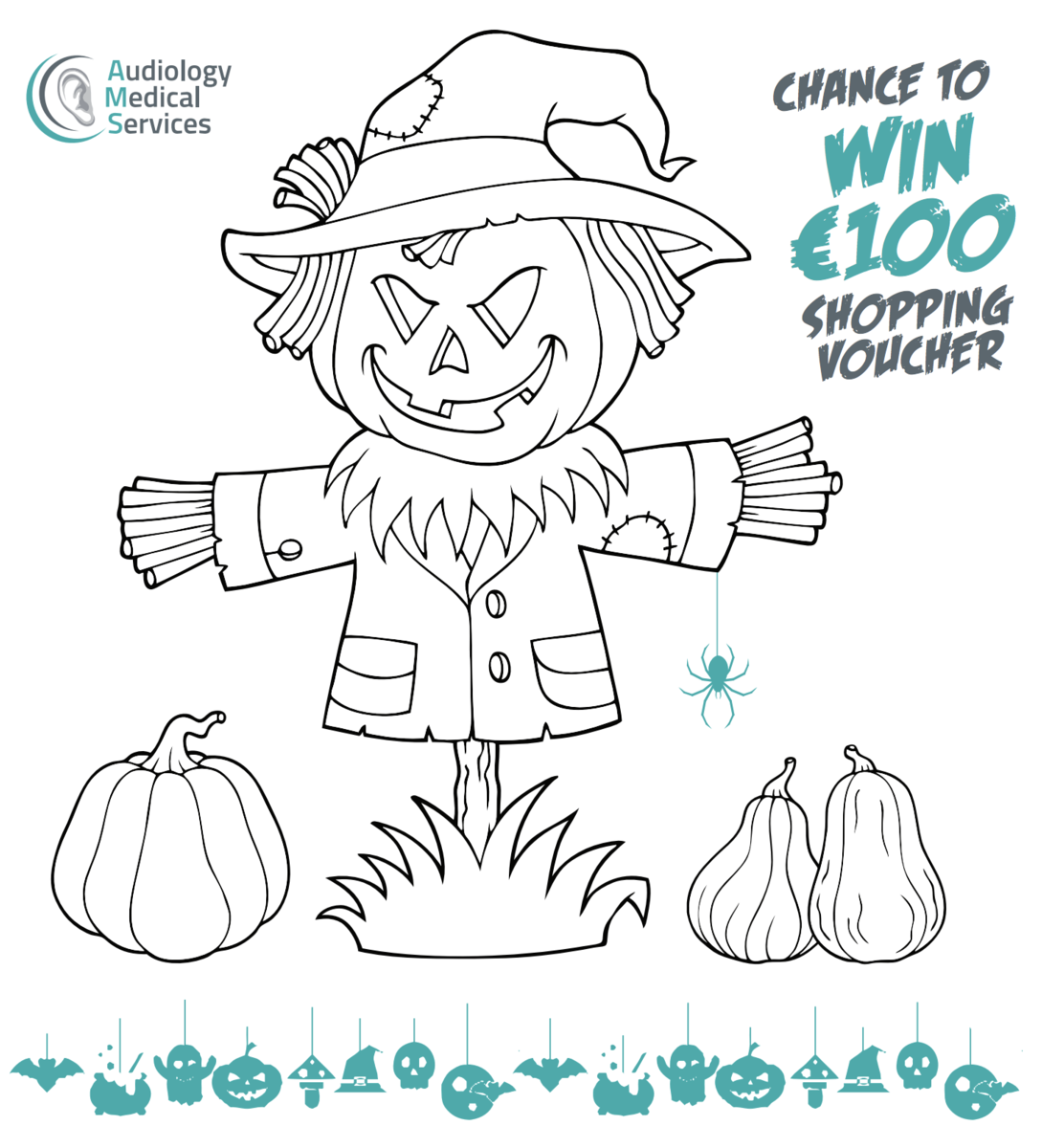 This competition is open to children between 4 & 12 years of age, with completed entries to be sent to our head office before October 31st at: Audiology Medical Services, Main Street, Carrigaline, Cork.
Download your Halloween Colouring Competition Here
Audiology Medical Services is a family-owned and run company, with a child-centred and family-friendly ethos at the heart of its paediatric diagnostic audiology services. International studies prove that early detection of hearing loss will result in improved academic and social outcomes for hard of hearing children and their families, which is why we provide expert and comprehensive diagnostic audiological assessment of infants, children and adolescents as well as adults. In order to provide the best hearing care and support possible, we have invested significantly in state-of-the-art diagnostic equipment to make sure every child has the most accurate assessment possible using the latest techniques.
€1,000 OFF Select High-End Hearing Aid Technology
Another treat we have to offer you this Halloween is €1000 off select high-end hearing aid technology. With no ties to any one manufacturer, we have the luxury of offering each patient a hearing solution that suits them best and specifically targets their needs and budget. From more sophisticated state-of-the-art instruments, to budget-friendly options, we will guide and educate you through your selection process.
Our expert knowledge paired with your everyday experience will allow us to consider which style, fit and design will give you the maximum benefits available. Your hearing is an investment, and we are committed to giving you the highest standard of patient care at Audiology Medical Services; from the moment you book your first private consultation, to choosing, fitting and verifying your new devices, and right through your lifelong hearing care journey.
To find out more about our €1,000 off select high-end hearing aid Halloween Sale, freephone us today on 1800 501 501. Offer ends October 30th so make sure to make your appointment before then to avail of this amazing offer.
Don't forget that at Audiology Medical Services we also offer several different accessories to work with your hearing aid solution. Once you have been fitted with your new hearing solution instruments, you will return home and gradually adjust to life with improved hearing. Certain situations and settings may prove challenging at first, so we advise each patient to keep a diary for these initial few weeks. During your follow-up counselling sessions, these issues will be addressed. At Audiology Medical Services, we offer a number of assistive hearing devices from a range of manufacturers that are both discreet and convenient - ultimately improving your confidence and ability to complete everyday tasks seamlessly. From wireless microphones to Bluetooth enabled accessories, we provide the best possible solutions to suit your needs.
25% OFF Microsuction - Special Offer
Our final treat this Halloween is our Microsuction Ear Wax Removal Special Offer. Ear wax is the most common problem presented by patients at our clinics and Microsuction is regarded as the safest and quickest method of ear wax removal. Usually €100 for adults for both ears, we have a special offer of just €75 if you book before October 30th as part of our EARiest Sale Ever. Just freephone 1800 501 501 to book or find out more.
Audiology Medical Services is proud to have been the first clinic in Munster to introduce the procedure and our audiologists are fully qualified in carrying out this simple and effective treatment. With few limitations, the use of a microscope and finely balanced medical suction device allows us to see directly into the ear canal. No liquids are introduced during microsuction, resulting in a pain-free and comfortable experience that is completed within minutes.
To avail of this offer or any of our EARiest Sale Ever treats or to find out more information on Audiology Medical Services freephone us on 1800 501 501 today. Happy Halloween!